Bedding Advice and Pillow Fitting in Miranda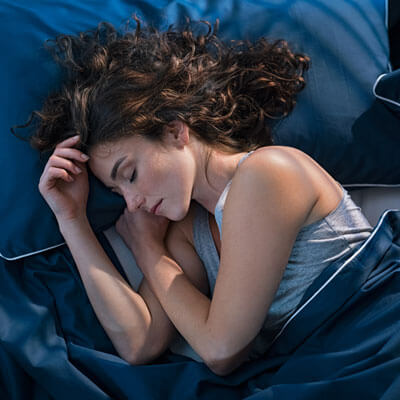 We spend an average of one-third of our lifetimes in bed, and with much of that time spent in bed, it's important to focus on our sleep health and hygiene. Bedding, pillows, and even mattress protectors all play a significant role in how well you sleep.
It is crucial to have the correct support system for sleep, and your mattress and pillow need to match your posture, providing adequate support to a neutral spine position. This will help you to eliminate sleep disturbance and maximise the time that your body has to recuperate. A sound sleep can help improve your mental health, physical wellbeing, immunity, weight regulation, and even fertility.
And in the end, this means you'll likely have more energy when you wake, which is everyone's ultimate goal!
NEW PATIENTS

A Pillow for Every Person
When it comes to the best in bedding advice and pillow fitting, who better to talk to than your chiropractor? Dr Ian Edwards (Chiropractor) has been fitting people to the correct pillow for more than 20 years. At Unwind Health, there is a range of pillows to suit almost every need. Dr Edwards and his team take the time to ensure the suitable pillow fits the patient's size and conditions.
The pillows sold are adjustable and come in several different sizes, customised to the patient, and are made from a material called natural latex .
Mattress Support Advice
If you've ever found yourself in need of a new mattress, you know the signs: sore back and neck, aching joints, restless sleep. But how do you know what's the best fit, and how can you figure that out in the short few minutes you have on top of a mattress while trying them out in stores?
The good news is Dr Edwards can recommend the type of support patients need from their mattress based on their physical needs. He has the extensive experience to help you choose the proper fit. Having owned two retail bedding stores, with mattresses made to order, he offered one-on-one consultations with clients and fit them to the correct mattress for their body size and shape.
With a perfect match in mattress support, you may be sleeping more soundly in no time.
Pillow and Mattress Protectors
Our practice also sells waterproof pillow and mattress protectors that feel like a normal mattress. Protectors extend the life of your sleep products by acting as a barrier to your sweat, which can break down the materials in pillows and mattresses. It not only improves the hygiene of your sleep area, but can also save you the cost of having to replace pillows and mattresses more frequently.
Sleep Well, Live Well
Dr Edwards and his team know that if you're sleeping well, you can live better. We want to help lead you on your journey to better health. Call us today to make an appointment, (02) 8544 8234.
CONTACT US

Bedding Advice and Pillow Fitting Miranda, Caringbah, Gymea, Sutherland NSW | (02) 8544 8234